Lots of media chatter about large coronal injections and EMPs are what got this writer interested in the end times back in 2010.

Informative video in this report.

"And there shall be signs in the sun, and in the moon, and in the stars; and upon the earth distress of nations, with perplexity; the sea and the waves roaring; Men's hearts failing them for fear, and for looking after those things which are coming on the earth: for the powers of heaven shall be shaken."
—Luke 21:25-26

---

Related articles
Family Survival Protocol - Microcosm News
Shown here in an extreme ultraviolet photo taken Dec. 11th, the UV-dark chasm overlies more than 500 billion square kilometers of solar terrain: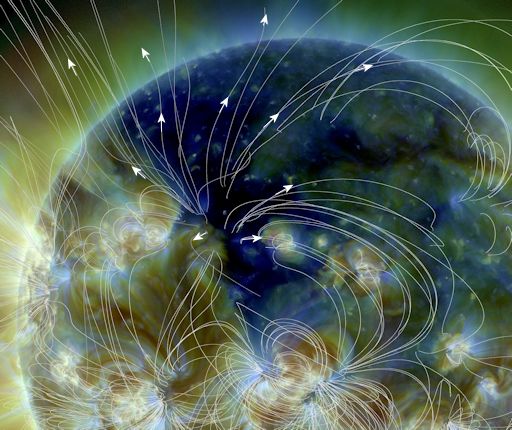 Coronal holes are places in the sun's atmosphere where the magnetic field opens up and allows solar wind to escape. A broad stream of solar wind flowing from this particular coronal hole should reach Earth on Dec. 15-17.
The last time a solar wind stream blew past Earth, on Dec. 7th, the impact sparked Northern Lights in the United States as far south as Montana and Michigan. A repeat performance could be in the offing. High-latitude sky watchers should be alert for auroras early next week.
…..
Solar Storm Forecast 12-10-13
Published on Dec 10, 2013
Even while busy with Comet ISON, the Sun managed to launch three partially Earth-directed solar storms this week, two of which have…
View original post 353 more words